CONTINUING EDUCATION
The Center of Excellence in MCAH hosts a variety of continuing education activities to build skills for MCAH professionals.  These activities include research symposiums, interdisciplinary colloquia with other MCHB leadership training programs, and events for MCAH professionals on topics of interest. Examples of past events include: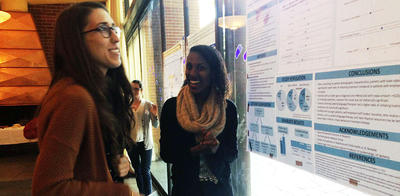 Adolescent Health and Emerging Adulthood Research 

Symposium
(April 2018)
This event higlighted the latest work and research of MCAH professionals relating to adolescents and emerging adults.  
SELECT PRESENTATIONS:
Naomi Schapiro & Samira Soleimanpour
Professor of Clinical Family Health Care Nursing
School of Nursing, UCSF

Megan Bontempo, MPH Candidate
Maternal, Child & Adolescent Health Program
UC Berkeley School of Public Health 

Andrea Garber, PhD, RD, Professor
Division of Adolescent and Young Adult Medicine, UCSF

Mark L. Rubenstein MD  
Professor, Department of Pediatrics  
Division of Adolescents, UCSF  

Alexandra Carter, MPH Candidate
Health & Social Behavior Program
UC Berkeley School of Public Health

Erin C Dunn, ScD, MPH
Assistant Professor of Psychiatry
Harvard Medical School
MCH Research Symposium (March 2016)
The symposium featured talks and posters on the latest MCH research from UC Berkeley and UCSF professors and students.  Watch videos from the presentation here(link is external).  
MCH Roundtable:  The Changing Landscape for Children and Youth with Special Health Care Needs in California (April 2015)
Highlights for the day included a range of speakers including researchers, policy experts and a panel of parent advocates in the field of CYSHCN, followed by roundtable discussions between attendees and speakers.  View a video of the panel discussion here.(link is external)
Symposium: Today's Children, Tomorrow's Adults:  Scientific Research Supporting  MCH Life Course Concepts (March 2014)
This event focused on cutting edge research focused on various stages of the life course, interdisciplinary perspectives, and innovations in Maternal Child Health, followed by interactive dialogue between presenters and attendees.  View the presentations here.(link is external)  
Conference: Are We Poisoning Our Children? How Chemicals in the Environment Affect Children's Health (November 2011)
This event featured talks from physicians and researchers on the topics of parental and child exposures to chemicals, global environmental threats, and environmental justice pertaining to children's health.