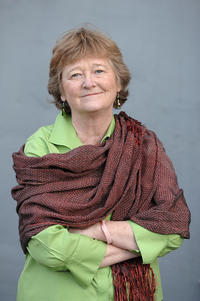 MCH Alumna Martha Ryan (MPH '89) founded San Francisco's Homeless Prenatal Program (HPP) in 1989, right after graduating from UC Berkeley's Maternal and Child Health Program.    Her goal:  to serve one of the city's most vulnerable populations--its pregnant and homeless women.  In the 29 years since, HPP has grown to over 90 staff members,  and its number of clients from a first-year group of 72 to over 4,000 annually----no small number in relation to San Francisco's ever-growing homeless population, estimated to be 7,500 individuals in mid-2017.  
Ryan modeled the program after work she did in refugee camps in East Africa.  "We trained women in the refugee camps to be the link.  We affected them in such a positive way.  My original plan was to set up MCH programs in East Africa, but I found the third world right here in my own backyard."
The program employs a comprehensive mix of prenatal and parenting support,  domestic violence and substance abuse treatment services and referrals, counseling, and childcare services.   In addition, its year-long Community Health Worker (CHW) training program has helped 147 women find jobs or pursue further educational opportunities within 30 days of graduation.   Over half of HPP's staff, including case managers, are former clients, and the program has helped obtain permanent housing for over 2,187 families
We asked Ryan which elements of her UCB MCH training she still uses today.   "I was volunteering and working on this issue (homelessness and prenatal care) as a student and realized that financially, I couldn't be a volunteer forever.   I took that (UCB) grant writing class*, and I translated my capstone into a grant application which I submitted to the San Francisco Foundation.  I got the funding and that's what started the Homeless Prenatal Program. Also, learning about evaluations and statistics continues to help as I think strategically about ways to develop the program. 
When asked what advice she would give to MCH students or MCH graduates early in their careers, Ryan responded:    "To dream, to have vision, and not give up on ideas that you have.   If you have a project stay with it. The journey isn't easy, but don't doubt yourself. Nobody thought I would get the (San Francisco Foundation) grant. Don't be afraid to make mistakes--relish those times of learning.  Early on with HPP I made a huge mistake, but I kept going.  I learned more from failing than from success."
In 2017 Ryan was given the UC Berkeley School of Public Health's Alumna of the Year award, its highest honor for former students.  
To learn more about the Homeless Prenatal Program, watch an interview with Ryan here:  http://www.homelessprenatal.org/news/marthas-insight-interview
*Currently, the SPH offers an equivalent skill-building class in grant writing, the PB HLTH 290 Grant Writing Seminar.