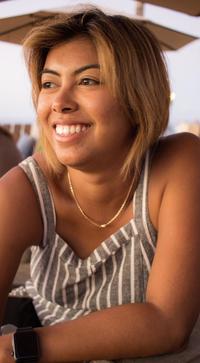 Hmellisa Mlo
I started working with CredibleMind before we were called CredibleMind in early 2018. I was introduced to this early project via Deryk Van Brunt, after taking his Health Information Systems class in spring 2017. With a background in mental health and public health and experience working in tech, it was a perfect fit! 
Since then, I've been an integral part of a transformation from an "early project" to an incorporated start-up – including extensive content curation and publication of over 100+ mental health and emotional wellbeing topics, over 30 user testing sessions to validate our tool, and our website launch in summer 2019. Now, we're focused on growing our company and marketing efforts to form partnerships with hospitals, community clinics, health plans, employer wellness programs, even student health centers and transportation systems. We launch our system for UC Berkeley students this year; to be called: Flourishing at Berkeley!
I collaborate regularly with MDs, DrPHs, nurses, product managers, developers, and experts in business and spiritual growth. We are all committed to helping people get access to the best resources for their self-care and personal growth and believe that everyone is entitled to the best information available that can help them flourish mentally, emotionally, and spiritually.
On our platform, you can:
Search for resources in over 100 topics, such as stress, sleep, and meaning and purpose.

Find the kinds of resources that fit your learning style– apps, podcasts, videos, articles, books, original blogs

Find evidence-based approaches that are known to help with various mental health and spiritual growth issues– meditation and mindfulness practices to reduce anxiety

Take assessments to learn more about yourself– Are you thriving at work? What's your anxiety superpower?
If you're interested to see what we have, check out our website today and sign up– it's free! And if you want to show your support for a fellow MCAH alumna, follow us on social media and like or share our posts with your networks.
Facebook: https://www.facebook.com/CredibleMind/
Instagram: https://www.instagram.com/crediblemind/
Twitter: https://twitter.com/CredibleMind