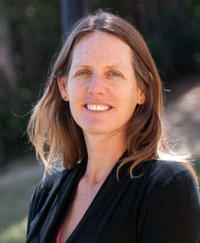 Berkeley School of Public Health alumna Carly Strouse (MCAH MPH 2013, DrPH 2016), currently an Assistant Professor in the public health program at Touro University,  recently analyzed data for the Food Empowerment Project on the lack of healthy food available in Vallejo, California.   We interviewed her about her role in the project, as well as the project's methods, goals and next steps.
Can you describe the project?
The Food Empowerment Project (FEP) is a vegan food justice organization that aims to raise awareness about how food choices can change the world. FEP has four main initiatives:  1) promoting ethical veganism; 2) assessing access to healthy food in partnership with communities; 3) providing consumers ethics education on cocoa production; and 4) advancing the rights of farm workers through policy change.
FEP recently  conducted a survey of food retailers to understand the availability of fresh fruits and vegetables in Vallejo. Project findings revealed a dearth of grocery stores and an abundance of liquor and convenience stores in lower income neighborhoods within the city limits. In response, FEP partnered with local community members to conduct six focus groups with city residents. The purpose of the groups:  to understand where residents shop for food, to assess the availability and accessibility of fresh food, and to ascertain what changes in the food environment residents want to achieve.
After the focus groups were completed, community leaders and FEP wanted to partner with an academic institution to analyze the collected data, which is where I came in.  We (myself and Touro University) partnered with FEP and community residents to analyze the data and develop a report. This information could then be used to make recommendations to City leaders on ways to improve the food landscape within Vallejo.
How did you involve students and/or community leaders?
Our MPH students were going on field placements for the summer and many led the focus groups or conducted the interviews. This provided an opportunity to learn and practice qualitative research methods.  We used the project as an opportunity to do workshops on these methods for our students.  We held five workshops, and discussed how to conduct focus groups and begin to analyze data.  We invited the community member who facilitated the focus groups to join us in the workshops. This was a great way for our students to hear about more about the focus groups, and for the community member to get additional information and resources on conducting focus groups, data gathering and data analysis.
What was the project's outcome, and what are the next steps around the issue?   
Once we completed the workshop, another faculty member and I analyzed the data and, in partnership with FEP, created a final report: Bringing Community Voices to the Table: Food Access in Vallejo, CA.
Findings from this analysis were provided to community residents at an annual community event, The Vallejo Healthy Food Fest, where we had one of our graduate students who participated in the Qualitative Methods workshop present focus group findings. The report is also being used to advocate for a full service grocery store in two Vallejo neighborhoods, and explore the opportunity for a worker-owned grocery store.