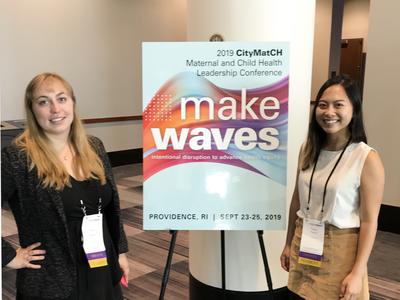 Anika Lovgren and Vicky Nguyen at the conference.  
By Vicky Nguyen
Attending the 2019 City MatCH Conference was an insightful few days to reflect on becoming an MCAH professional. The theme of the conference was "Making Waves" for intentional disruption in health equity, which was uplifting, reenergizing, and empowering to be a part of. As public health students and leaders, we are all invested in improving health equity, and being amongst these agents of change was a meaningful reminder of why I chose this career path in the first place.
The conference hosted over 800 attendees across the country, many working at state and federal agencies. The relatively small size of the conference offered many opportunities to network, ask questions, and tackle the current issues involving MCAH populations in a more intimate environment.
I had the chance to participate in two pre-conference workshops during the weekend. Saturday's workshop was about program evaluation and needs assessment, and using the CDC Framework, participants worked through a case study of Best Babies Zone. This helped visualize the evaluation plan my classmates and I are currently developing for our Evaluation of Health and Social Programs class. The "Other H in MCH" pre-conference workshop was a day of justice building, equity work, and cultural humility and inclusivity. Participants were instructed to take the Implicit Association Test (IAT) prior to the workshop, and we discussed not only how implicit biases can affect healthcare delivery, but also how they materialize in the workplace in well-intentioned circumstances. While both of these workshops were rich in content, I also left with wisdom from the other participants, who brought their experiences and perspectives from their own organizations into the dialogue.
During the conference, I attended presentations and breakout sessions related to my broad areas of interest. For example, one session I attended the speaker presented on a new online interface called Gabby for young Black women to more easily receive preconception care. This intervention mitigates the time constraints of patient-to-provider interaction, delivering reproductive healthcare and information in a comfortable setting. It was incredible to hear about how this technology is transforming patient outcomes.

A session by representatives of American College of Obstetricians and Gynecologists (ACOG), Association of Maternal & Child Health Programs (AMCHP), and Association of State and Territorial Health Officials (ASTHO) addressed a completely full room about the policies impacting maternal substance abuse and actions to reduce opioid mortality in new mothers. The moderators explained how these issues are important to address in the state legalization. As my capstone research will focus on prenatal cannabis use and cannabis is the most widely used illicit drug in the U.S. among pregnant women, it made me wonder where future actions could be prioritized. 
I am grateful to the Center of Excellence for sponsoring me to join the City MatCH Conference this year. The most valuable part of the conference was meeting other professionals and learning from them about the work that still needs to be done in our field. As I am completing my final year of graduate school, this was a pivotal opportunity to network with forward-thinking leaders and reflect on the ways I can make effective change.
---
By Anika Lovgren
The CityMatCH Leadership conference helped me envision my future as a graduate-scholar activist as I complete my graduate training at UC Berkeley and as a future public health researcher and scholar. After the completion of my MPH in Maternal, Child, and Adolescent Health, I intend to pursue a PhD in Environmental Health to examine prenatal physical environmental exposures and maternal and child cognitive outcomes. As a Master and pre-doctoral student, the CityMatCH conference encouraged me to think critically about how I, as a scholar, will seek to improve health equity through my research. 
The focus of the conference was "Make waves-- intentional disruption to advance health equity". The conference emphasized the notion that moving the needle towards health equity requires forethought and intentionality. To make a difference in public health organizations and our communities, one must work with allies, policy makers, and organizations. The conference provided a mix of MCH leadership, practice, and research workshops and sessions. These sessions provided examples of successful partnerships within MCAH and across public health organizations to work towards health equity.
The conference helped me see how my research has the opportunity to advance health equity and encompass the framework of reproductive justice. The conference challenged me to assess where I see my role as an academic and helped me reshape my goal of becoming a scholar-activist. Furthermore, CityMatCH helped me identify community partners and organizations that I could partner with to advance the health of women and children. 
More importantly, this conference showed me that I can lead from where I am. As a graduate student, I am currently participating in the Graduate Student Scholar Activists Program in the American Cultures Engaged Scholarships Program at UC Berkeley. As part of my training, I am learning how to use my privilege to work towards social justice with a group of UC Berkeley graduate students from a variety of disciplines. The CityMatCH conference, in conjunction with my Graduate Scholar Activist training, has allowed me to critically evaluate how academic institutions decide what knowledge is valued within the ivory tower and how I, as a graduate student, can attempt to disrupt ideas regarding what knowledge is valued. 
Various scholars at the conference sought the insight of community members via community based participatory research, community advisory boards, and the inclusion of community leaders on research projects. Throughout the conference, City MatCH presenters emphasized the importance of listening to lived experiences of others. In addition to simply listening, it is important to include individuals of diverse lived experiences in all areas where decisions are being made. The conference reinforced the value of qualitative research and the need for mixed methods research in public health in lieu of exclusive quantitative research. 
One of my favorite aspects of the conference was a pre-conference seminar on bias and the lived experiences that brought us to public health. One of the questions posed to conference goers was, "Who do you carry with you?" That is, who are the people that inspire you to continue this journey? Who do you bring with you into your public health work? And why do you do the work you do?  
I found this question to be helpful in grounding me throughout the conference. Since the conference, I have asked myself these questions whenever the path towards social justice seems too difficult. Reflecting upon the individuals and life experiences that led me to MCAH regnites my passion and reminds me why I chose this path. I encourage my fellow public health professionals to ask "Who do you carry with you?" and reflect upon who inspires your work when the road towards health equity feels too difficult.