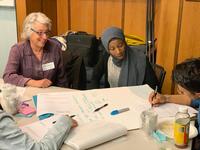 In spring of last year our MCAH Student Event Coordinators, Cheralynn Corsack ('19) and Natasha Borgen, created a student-led Human Centered Design Workshop for students, staff, and faculty both within the School of Public Health and also in other departments on campus. The event, co-facilitated by Wallace Center Faculty Dr. Jaspal Sandhu and Dr. Cassondra Marshall, is  now featured on the MCH Leads Blog! 
The post, written by Cheralynn, Natasha, and undergraduate Fung Fellow Hailey Windsor who helped facilitate the training, describes their experience creating an event intended to explore using Human Centered Design principles in public health to promote interdisciplinary/interprofessional team-building and create social innovation and systems change.  
MCH Leads is a student-run Maternal and Child Health blog about student leadership training experiences. This blog is a forum for students in the field to connect with one another and share their experiences.